Best Ninja Coffee Makers 2021 | Ninja Coffee Bar Reviews
Best Ninja Coffee Makers
If you want to make coffee at home with ease, consider the best ninja coffee maker as an entry point. The best thing is you don't need to buy individual parts just like forth etc.
In this article, we have reviewed 12 different best ninja coffee makers, which we further narrowed down, considering the unique features and chosen five from them.
Ninja Coffee bar vs Ninja Coffee Maker?
When it comes to mind, the difference between ninja coffee maker and ninja coffee bar gives little confusion. So in simple words, Actually ninja coffee bars are one kind of coffee maker with different brewing options.
But with the newest Ninja coffee maker models, you get more opportunities like different brewing size-types, including over iced brew, iced latte.
Why Should I Consider Buying Ninja Coffee Maker?
If you are a coffee lover and spend most of the budget on coffee, you should go for a best ninja coffee maker because of its flexibility. This coffee maker comes with a variety of options and customization, i.e. you can get full benefits from one machine instead of buying four different machines for your counterpart.
Features to Consider When Choosing Ninja Coffee Makers?
Brewing Options
Auto IQ Touch Intelligence
Brew Size
Glass carafe or Thermal Carafe
Different Brewing Options:
Before Buying, you should consider at least four brewing options like iced, classic, specialty, and Rich some new models offer Cafe Forte or Cold Brew.
Classic: The Classic cup of coffee for your daily use
Rich: Something like between classic and espresso-based coffee like a cappuccino or latte.
Cold Brew: Cold brew option comes in newest models of ninja to make it yourself at cooler temperature.
Specialty: It's actually an espresso concentrate, and it works best for making drinks that are normally coffee based.
Cafe Forte : This option is available in old model which produce strong espresso like coffee
Auto IQ Touch Intelligence
Ninja has an auto IQ one-touch intelligence feature that means you no need to measure guess or calculate the amount of water for the coffee. Its brewer decides by IQ touch feature the amount of water you need to brew. You just need to put ground coffee and select the desired cup size of your own choice. You may choose the single-cup option or a dual brewing system.
Brewing size
In several coffee ninja bars, you may find the option of making a coffee for a group or single-serve.
The six possible serving option includes a single cup 9.5 oz, Travel Mug 14oz XL single cup travel mug the full carafe XL multi serve and half carafe. According to the configuration ninja bar, you can make several types of serving size.
Glass Vs. Thermal Carafe
The primary purpose of the carafe is to keep your coffee hot. This plays an important role; either your ninja coffee maker comes with a thermal carafe or glass carafe because both do different functions.
Ninja coffee machine with glass carafe keeps your coffee piping hot for a short duration, maybe not more than 20 minutes.
Similarly, Ninja coffee maker with thermal carafe keeps your coffee hot for more than 30 minutes or up to 2 hours. It depends upon the model and also because it relies on insulation to keep coffee warm.
Ninja Coffee Bar Brewer With Glass Carafe (Cf080z) with auto IQ, Touch Intelligence offers to choose a different kind of coffee brews. You can easily brew various coffee options like classic, Rich, Over iced, specialty cappuccino, and latte.
With the auto IQ, one-touch intelligence gives versatile the size of the cup, either it is travel mug, half carafe, or full carafe.
The intelligence system decides how much the exact right amount of water and ground coffee is needed to make the perfect taste of your desired size of the cup. You don't need to measure water coffee or again to refile of water after a single-serve.
The Programmable delay brew option provides you the opportunity to brew coffee at the specific time of day according to your desired. It has incorporated thermal flavor extraction for the quality of coffee because of its temperature calibration, pre-infusion, and saturation.
In the past, some peoples have issues of leakage, but keep in mind there are rare chances of occurrence of these things.
Some Highlighted Features of the Coffee Bar CF080Z
Carafe with additional warming plates keep coffee hotter for longer time
Single-cup, Travel Mug, Full or half carafe gives multiple drinks sizes options
Auto IQ gives you tension free from measuring and refilling of water each time
Make Hot or Cold Frozen coffee of your choice
The programmable feature gives on-demand coffee just the way you like
Bonus Features are given with coffee maker
Insulated tumbler,
Glass ninja easy milk frother
40 recipes cookbook
Permanent filter
Ninja coffee scoop
43.oz glass carafe with warming plates
Removable water reservoir
If you are looking for making hot coffee or tea, then this ninja coffee maker CP301 is best for you.
Good quality material is used in the product with the facility of easy to use, but price-wise it may be a little bit expensive. Still, if we look at the ratio of price over performance, then it is an unbeatable product from ninja.
This multipurpose machine offers you to make a cup of tea or brew hot or cold coffee. With the built-in Auto IQ one-touch technology provides you the complete solution in choosing the type of drink and size of the cup.
This Ninja Coffee Maker (CP301) gives five different types of brewing style Cold-brew, classic, rich, over iced, and the same specialty suits for tea also.Ninja espresso machine is a perfect solution for a larger family who like the variety of fantastic taste in the drink if we go for size-wise it gives full carafe, half carafe, multi-serve container, travel mug, Large and small Mug.
Some of the best highlight feature of Ninja CP301
Classic, rich, over iced, cold brew and specialty brew option are presented in the machine
Herbal, Black, White, Green, and Oolong tea brew option available.
Warming plates to keep your drink hotter
If you are looking for top-rated best coffee machine with the impressive modern look and valuable features, it's hard to beat ninja coffee maker CF091.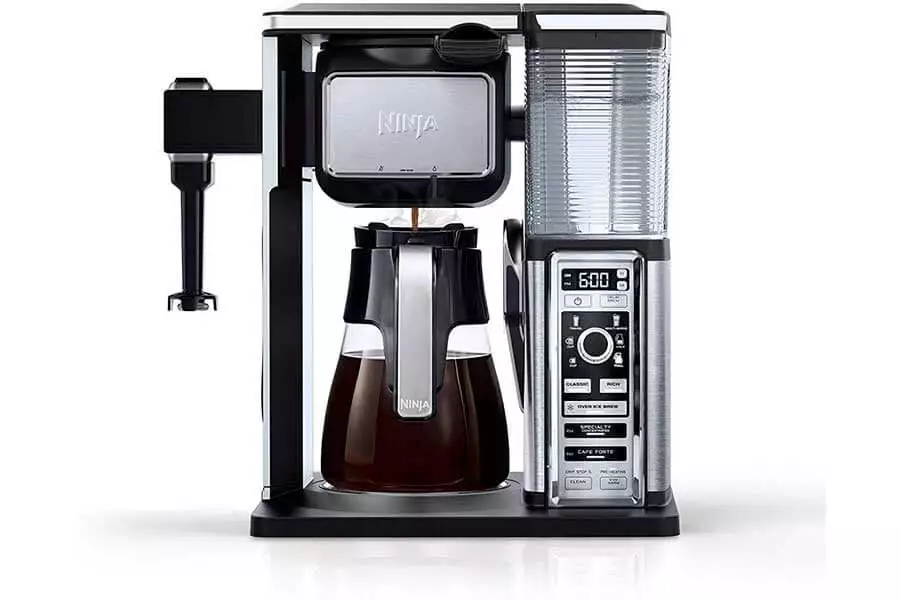 This ninja coffee bar espresso has built-in and ready to use handheld electric farther.It is made from stainless steel with a permanent reusable filter. You don't need to worry about the replacement of filter now or latter thanks to ninja for such a durable machine.
It comes with 10 cups of a glass carafe, which is large enough for multiple coffee drinks for the whole family with the addition of warming plates, which keeps your drink hotter for a couple of hours.
Design-wise it is quite like a single-serve coffee maker, but due to its large size, you can make one cup to full carafe without any trouble. Due to its versatile features, you can avail of 5 brewing options classic, rich, specialty, café flavor, and over iced.
This coffee maker comes with two types of a carafe. One standard comes with a glass carafe and other with thermal carafe the latter is a little bit expensive due to thermal carafe nature.
With the ninja smart scoop technology, this coffee bar comes with a pre-warmed feature, which gives you every cup hotter than the first one.Incredible pre-infusion technology is used to enhance the flavor and taste of coffee in each serve.
---
Nescafe Taster's Choice has got a perfect blend of taste for people who want to enjoy different coffee types from a single jar. It is actually a complete package of 2 jars weighing 7 ounces each from which you can make many coffee cups. This deal allows you to enjoy instant coffee with a delicious taste for a long period of time for sure.
If you want excellent quality products for which the ninja brand is known, then this coffee maker is perfect for you.Ninja coffee maker comes with an onboard frother which turns hot or cold milk into silky-smooth frother; moreover, it can be easily folded down to give space and storage.
The carafe can make a full pot or bend down to make the single-serve brew.The simple dials button enables you to choose from six different brew sizes for a single cup or travel cup size to half carafe or full carafe.
Keep in mind Ninja coffee brewer CM401 and CM407 has not any significant differences. The only thing which differentiates both for each other is the carafe. The CM407 comes with a stainless steel carafe while CM401 comes with a glass carafe.
This machine is certified from the SCA home brewer.
This is the giant ninja coffee machine having a dimension of 15 x 11.3 x 16.3 inches that can brew any cup from single-serve to full carafe and enables five brewing methods.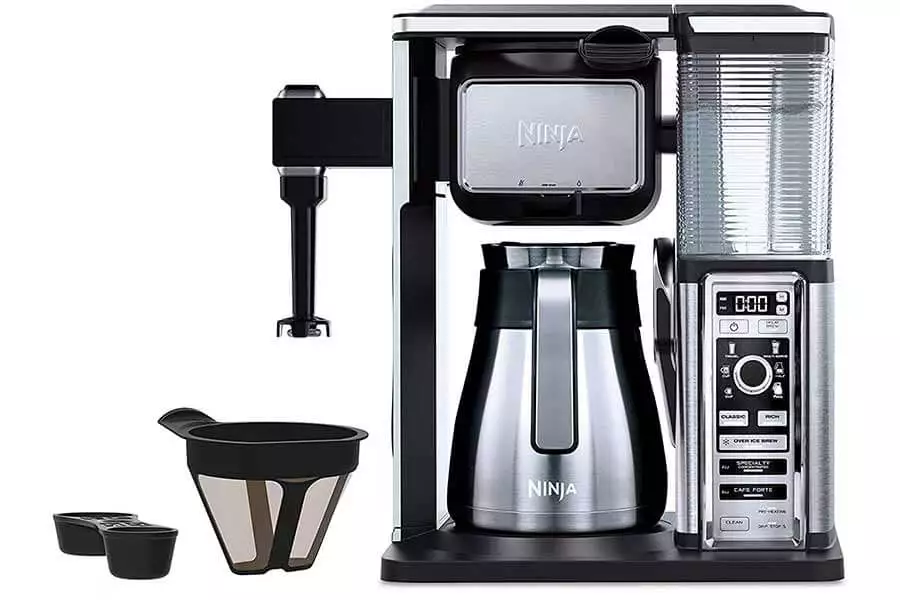 You can brew any coffee with customizing the flavor if your desire.It has a capacity of 10 cups with the help of a thermal carafe. It keeps your drink hotter for a couple of hours.Ninja thermal flavor extraction technology is used to unlock the full flavor potential of your coffee.
Q: Can ninja coffee maker make espresso?
A: No, in real espresso sense it does not make but makes some concentrated brew which you can use as a base for the making of cappuccino or latte
Q: What is the best grinder size for ninja coffee?
A:The answer applies to both the ninja coffee bar and the drip coffee machine, which is medium-sized.
Q: Where can I get a ninja coffee maker booklet and recipes?
A:In some model, as mentioned above, it comes with them, but you can also download it from their website also
Q: How to clean Ninja Coffee Bar?
Q: How can I program the ninja coffee bar?
Ninja coffee maker manual comes with a machine that can get a complete guide, but you can also download it from their site also.
Q: does ninja coffee maker have auto shut off?
The coffee maker does not have any shutoff button, but the warming plates turn it off automatically when it is not used.
Q: What is the best ninja coffee maker?
According to all the great options, we have reviewed the five best ninja coffee makers, depending on customer requirements and budget. You may pick which one suits you,
Reason to buy Ninja Coffee Bar
1. Ninja is known as Everything
Because you select product ninja is known for Everything you need, just like to prepare small size to the full carafe, Auto IQ, Smart Scoop technology, warming plates.
2. Budget-Friendly
You can easily find affordable, budget-friendly coffee makers from the market.
3.Excellent Customer Support
You will get 24/ customer support from ninja officials.
4.Easy to Use
Almost all models come with user-friendly design, which is not difficult to operate, and you can easily make coffee of your choice.
5.Warranty
Ninja coffee bar offers a one-year limited warranty in case of any issue you can easily claim it without any worrying
Conclusion
In light of the above shared information, I hope you will get a clear idea of which coffee machine would be most suitable for you according to your requirements.
Every coffee maker have its how feature, flexibility, versatility nature but from our conclusion for the overall best product ninja specialty fold away frother CM401
It can be a little bit expensive, but it's worth the price.
But if you are looking for the best budget-friendly, then go for 12 cups programmable coffee maker with classic and rich brewer CF201.
Its costs are not much higher than most of the coffee bar, but it will give you Everything you want from ninja.